Shrimp and Salmon Seafood Casserole is a creamy blend of seafood, herbs, asparagus and four cheeses, with a crisp layer of Panko and parmesan.
As the weather gets cooler, I crave hot one-dish meals like this. This Shrimp and Salmon Seafood Casserole is a simple recipe that tastes complex. It's a comfort meal with succulent shrimp and sautéed asparagus, bound together with gooey cheeses. I promise you haven't had a casserole like this! Get ready to impress your friends and loved ones with a meal they won't forget.
If you can't get enough seafood, then you'll want to check out my Pineapple Shrimp Fried Rice and the Crispy Sheet Pan Salmon with Veggies.
This recipe is part of the Cozy Fall Recipe series in collaboration with Chef Natasha and other amazing Black food bloggers.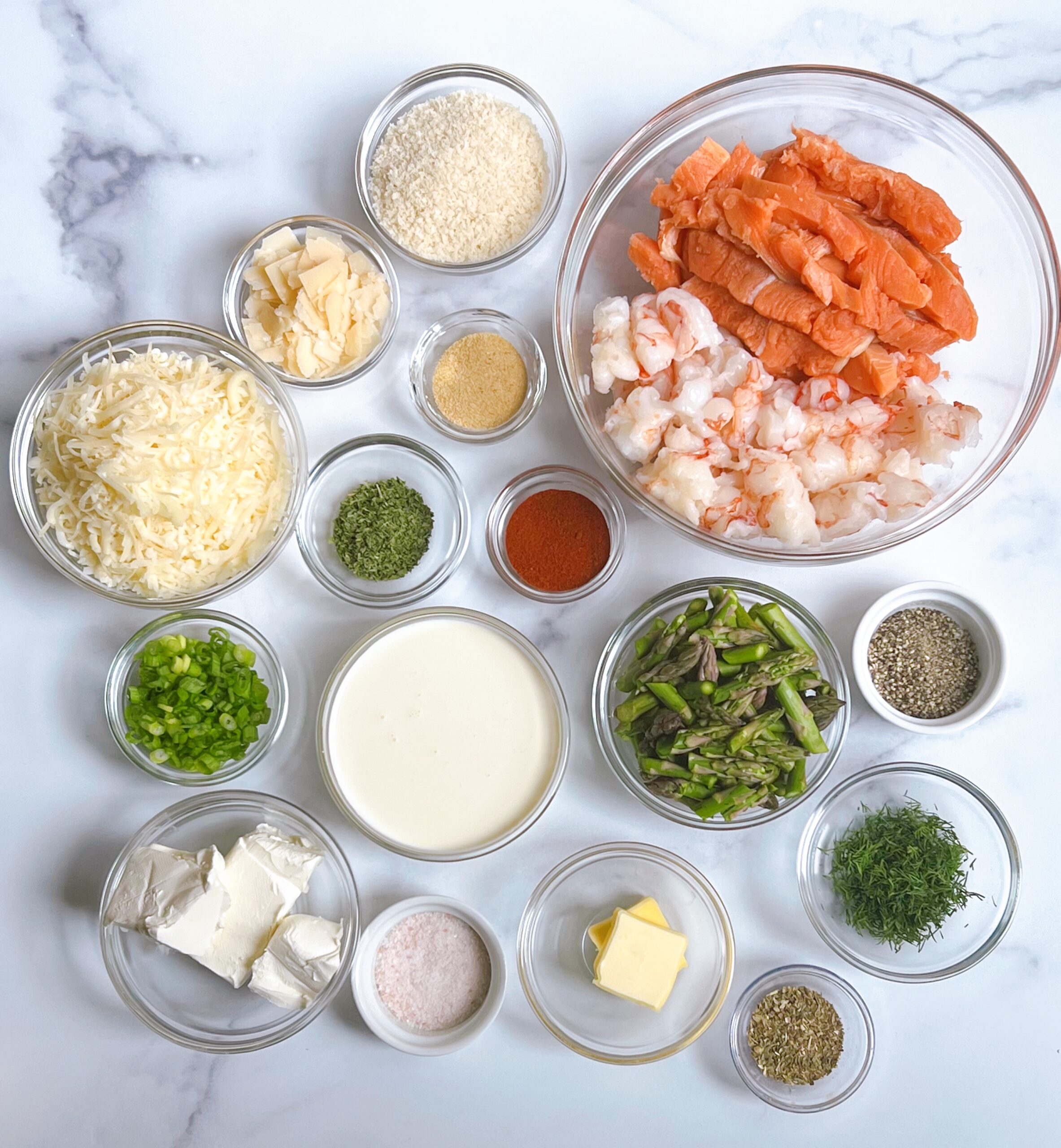 What goes into a casserole?
A casserole is simply a meal baked in a casserole dish. With that in mind, the possibilities for a casserole are endless! Let's go over the basics for preparing a casserole suitable for a dinner entree or side dish.
Proteins: Beef, chicken, fish, eggs, chickpeas, beans
Veggies: Broccoli, asparagus, carrots, and spinach are some of my favorites
Starch: Flour, pasta, potatoes, rice, bread
Cheeses: Mozzarella, parmesan, gouda, cheddar
Whatever ingredients you choose, pop your casserole in the oven for up to 45 minutes and get ready for the best meal of your life!
Preparing Shrimp and Salmon Seafood Casserole
First preheat the oven to 350 F. While the oven warms up, cut asparagus. Then melt 1 tablespoon of butter over medium heat in a pan. Now add the asparagus spears and garlic powder. Stir for 3-4 minutes until the spears are tender.
Add a pinch of salt and proceed to cook for another 1-2 minutes. Next, remove from heat and place aside in a mixing bowl. In the same pan, add a tablespoon of butter, salmon, garlic powder, paprika, and 2-3 pinches of salt and cook for 3-4 minutes.
Be sure not to overcrowd the pan during this process. Remove from heat and place the mixture in the same bowl as the asparagus.
After adding another tablespoon of butter to the pan, mix in the shrimp, garlic, paprika, and 2-3 pinches of salt. Cook for 3 minutes then remove it from the heat and add to the same bowl as the asparagus and salmon.
The Sauce
Now in a medium-size pot, stir heavy cream and cream cheese over medium-low heat for 2-3 minutes. Gradually add a mix of white cheddar and mozzarella and stir continuously. Add the remaining butter over medium-low heat, stirring in flour until the mixture is smooth and bubbly.
Next, add parsley and tarragon until the sauce is thickened and bubbly. Then add salt and pepper while continuing to store. Let it simmer on low heat.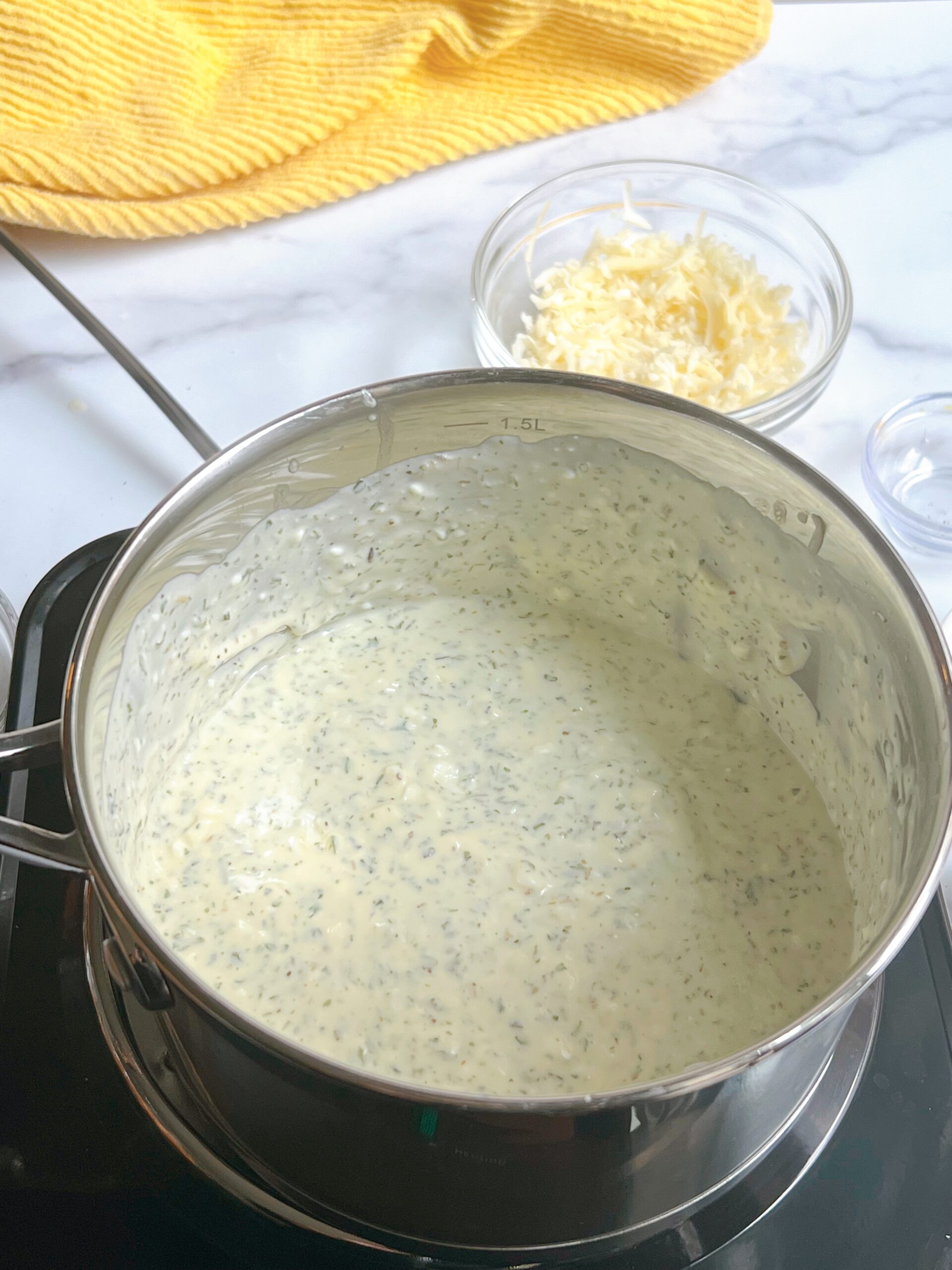 Spray a casserole dish with cooking spray. Pour the cheese sauce over the seafood and asparagus mixture. Then pour this into the baking dish, layering with spring onions.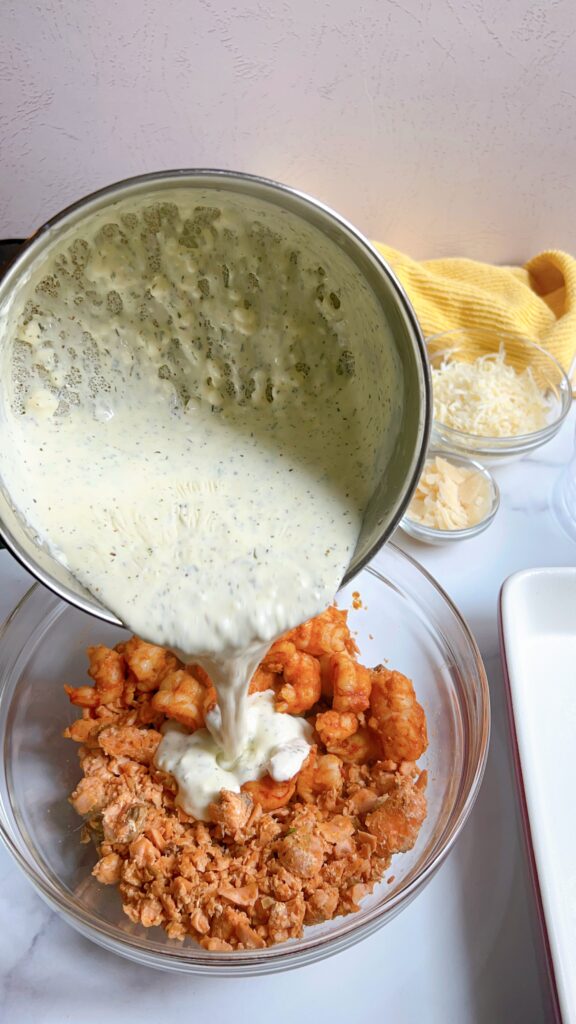 In a small bowl or measuring cup, mix panko bread crumbs, parmesan cheese, and dill then sprinkle the mixture evenly on top. Bake for 15-17 minutes then turn on the broiler for 1-2 minutes for a brown and crispy top. Garnish with spring onions and serve hot!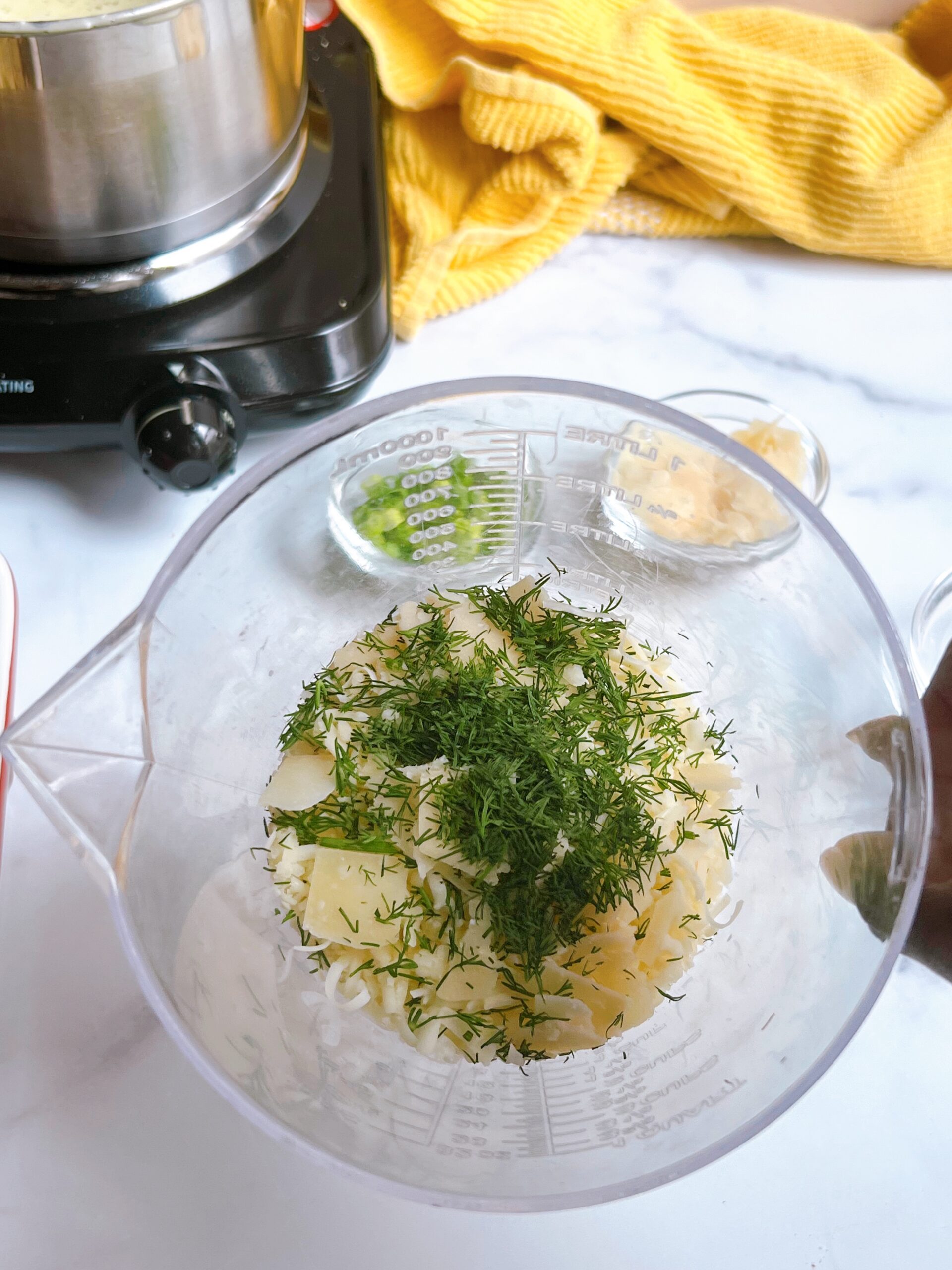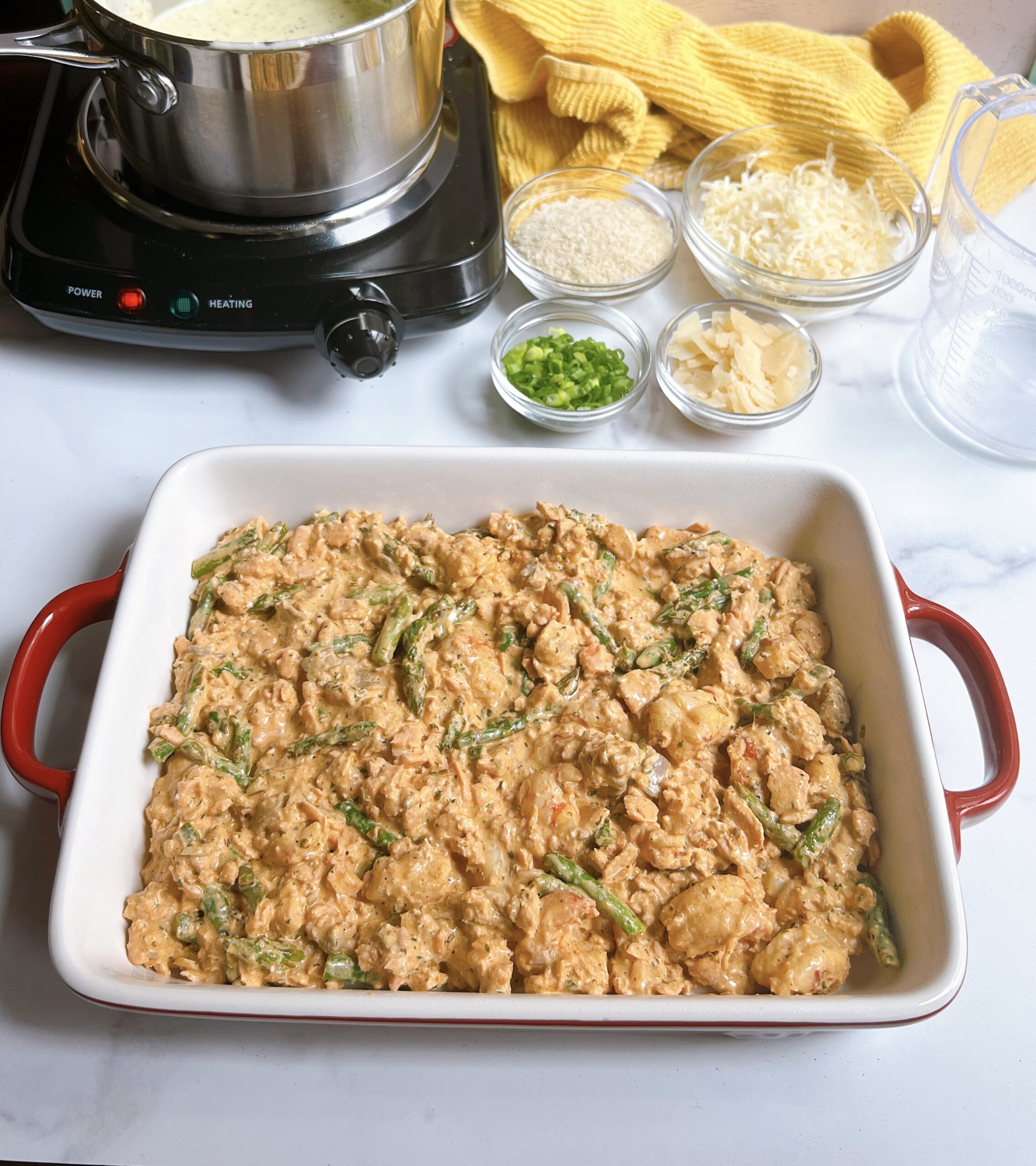 Did you try this recipe? I'd love to see it! Tag me in your BonAppeDee inspired home-cooked meals on Instagram!