Loaded Sheet Pan Chicken Nachos are baked layers of grilled chicken, shredded cheese, beans, and more, over a layer of crispy tortilla chips. These quick and easy sheet pan nachos are perfect for a game day or any time you have to feed a crowd.
So you are entertaining? Instead of serving your guests a boring bag of chips and salsa, prepare the ultimate chicken nachos recipe! In less than 30 minutes you can have a heaping mound of nachos covered in chicken, melted cheese, and your favorite toppings. These totally shareable baked chicken nachos are sure to be a crowd-pleaser!
Looking for more tasty appetizers for the next night you are hosting? Then you have to check out my Taco Egg Rolls and Lettuce Wraps or my Shrimp and Crab Stuffed Mini Sweet Peppers.
Are nachos dinner?
Anything can be dinner if you want it to be! But seriously, I love ordering nachos when I go out to eat and it is usually a really filling meal. Loaded Sheet Pan Chicken Nachos are even more satisfying, with inclusions like grilled chicken, nutrient-packed kale, and fibrous black beans.
Loaded Sheet Pan Chicken Nachos Ingredients
What toppings do you put on nachos? The answer is, whatever you want! Here is what I used for mine.
Chicken: I use precooked chicken for this recipe to save time. You can use leftover chicken, rotisserie chicken, or the prepacked variety. Just make sure you shred it or chop it up for easy spreading.
Salsa: Use your favorite brand of salsa to toss the chicken in. It adds some flavor to the nachos.
Tortilla Chips: Grab restaurant-style tortilla chips. They are slightly thicker and hold up well during baking.
Mexican Blend Cheese: A blend of cheeses is ideal. I prefer a combination of Sharp Cheddar, Colby, and Monterey Jack.
Kale: Does this count as my daily dose of leafy greens? It adds a healthy twist and complements the other toppings.
Red Onions: Add sliced onions just before baking.
Black Beans: For added fiber and a more filling meal.
Garnishes: After baking, add radishes, cilantro, jalapeños, cherry tomatoes, and avocados.
Sour Cream: Served on the side for picky eaters. Plus, no one wants to get the unlucky chip that is just loaded with sour cream!
How to Make Loaded Sheet Pan Chicken Nachos
Do not let the long list of ingredients fool you! You simply build Loaded Sheet Pan Chicken Nachos layer by layer.
Firstly, preheat the oven to 350F. Place sliced or shredded cooked chicken in a medium-sized mixing bowl. Then add salsa and mix well.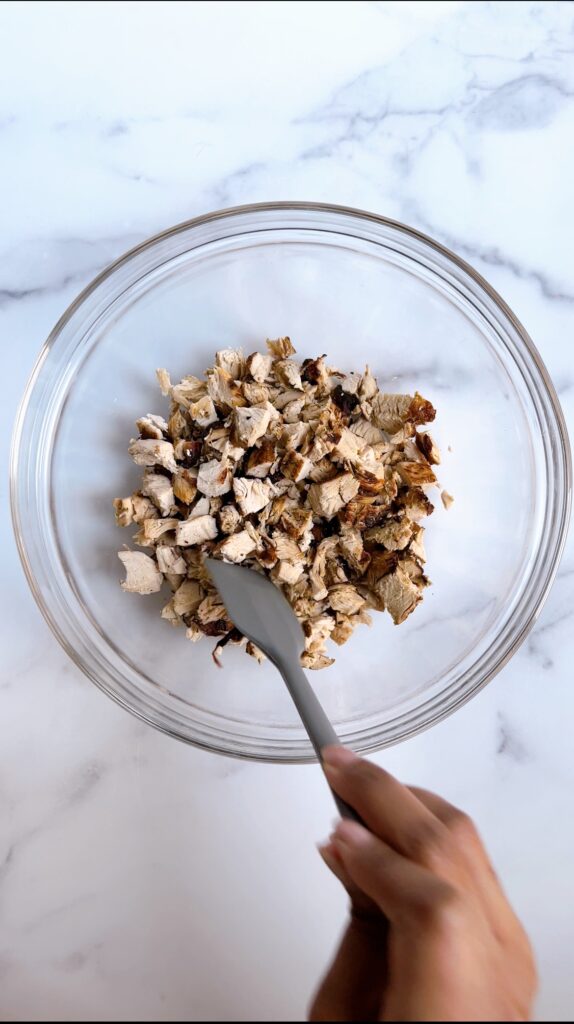 Place a generous layer of tortilla chips on a parchment-lined baking sheet. The parchment paper is optional but prevents the nachos from sticking to the sheet pan. Then sprinkle 1 cup of cheese across the chips evenly.
Next, add kale, black beans, and chicken. Finally, add the remaining cheese.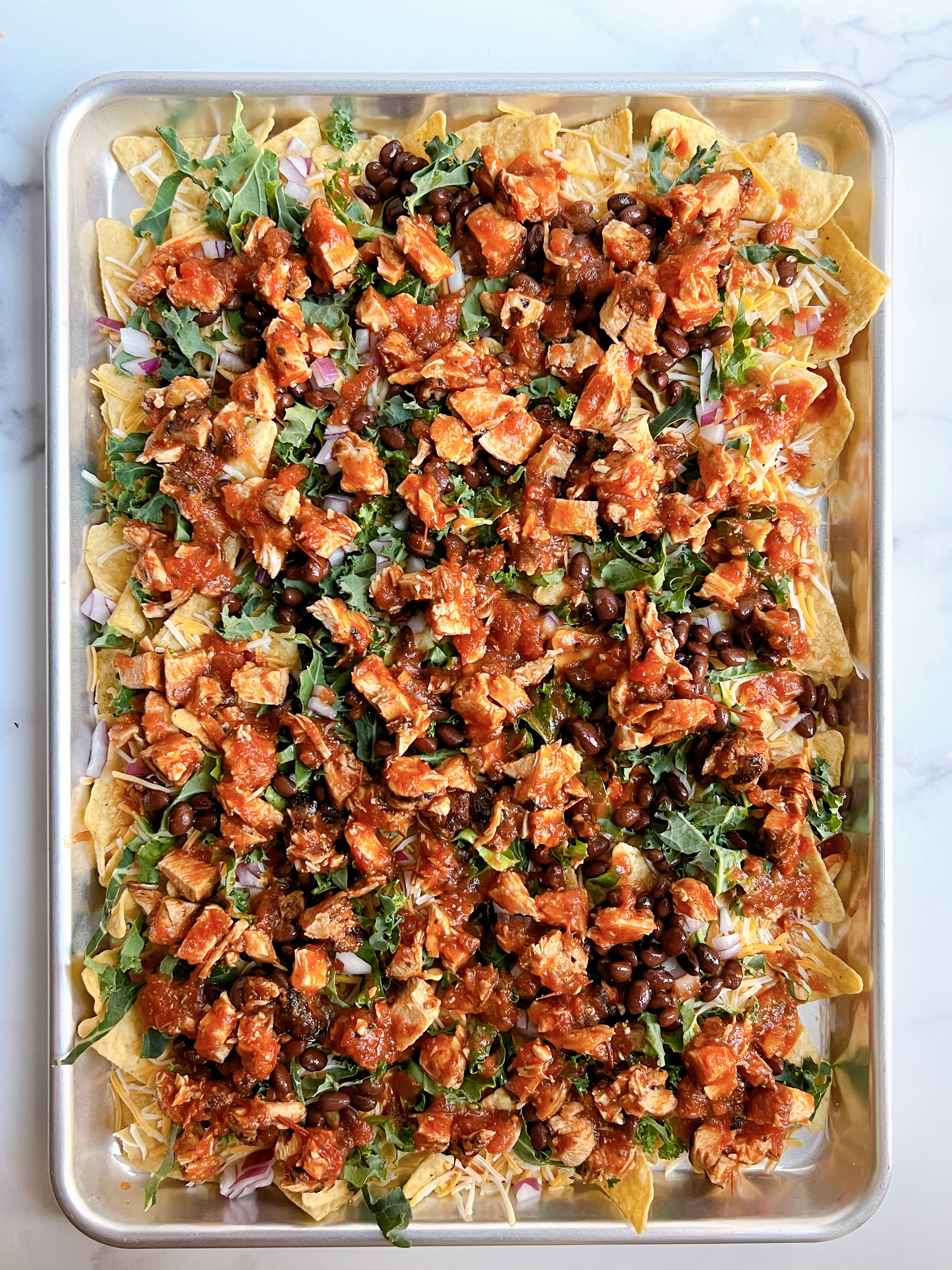 Then bake for 10-12 minutes. Sprinkle 1/2 lime juice over the nachos and top it with cherry tomatoes, cilantro, radishes, avocados, and sour cream. All that is left to do now is enjoy!
What is the best way to layer nachos?
Here are some things to keep in mind when layering nachos and preparing them for the oven.
Do not overcrowd the pan with tortilla chips. One layer on a large pan is ideal in order for them to cook evenly.
For the best melted cheese, shred your own instead of using pre-grated.
To prevent nachos from getting soggy, consider baking the nachos and the intial layer of cheese first. Just bake them for a couple of minutes before adding the other toppings and placing it all back in the oven. This adds a crisp barrier between the chips and the rest of the toppings.
Nachos aren't as good the next day or reheated so be sure to eat them all! (This shouldn't be a problem!)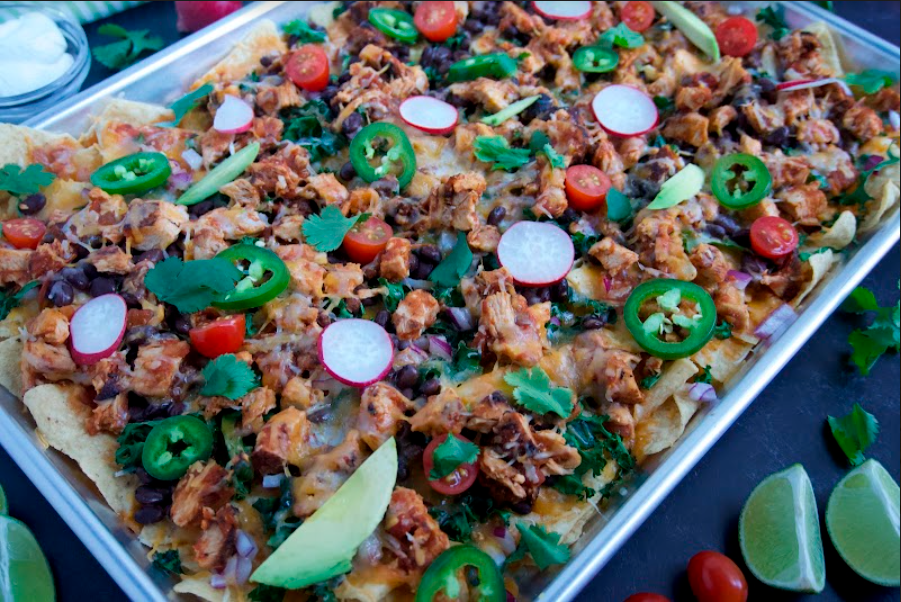 Did you try this recipe? I'd love to see it! Tag me in your BonAppeDee inspired home-cooked meals on Instagram!