Shrimp and Crab Stuffed Mini Sweet Peppers are cheesy, savory bites of seasoned seafood stuffed into spicy mini bell peppers. Serve them as an appetizer at your next gathering or enjoy them as a snack in between meals.
If you're looking for more party favorites that incorporate seafood, look no further than my Grilled Salmon Kebabs and my Mini Shrimp Rolls.
Lately, my appetite has been all over the place. I sometimes crave lighter food but I always want full flavor. Shrimp and Crab Stuffed Mini Sweet Peppers are the answer! This simple recipe is a great low-carb and keto-friendly snack that will help you power through the day.
There's something about the combination of seasoned succulent shrimp and sweet and tender lump crab with smooth cream cheese that just puts me in a good mood. Get ready to make something truly delicious!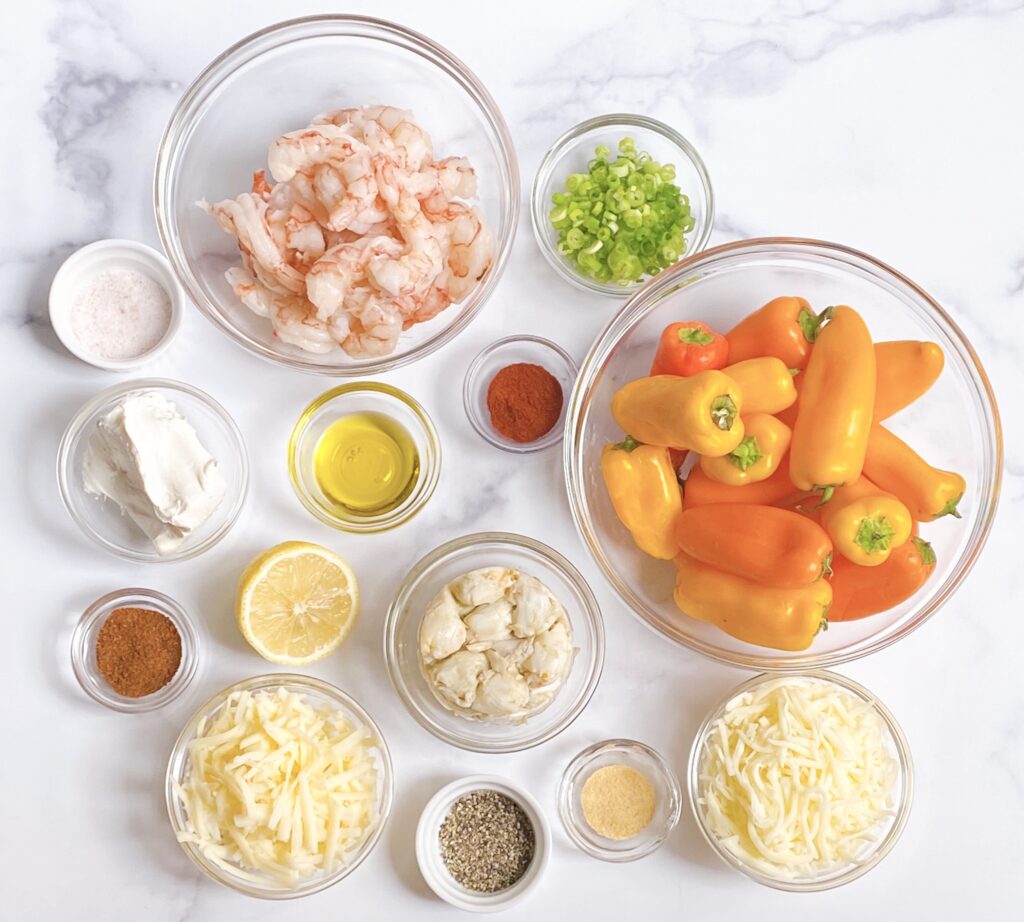 How to Prepare Shrimp and Crab Stuffed Mini Sweet Peppers
First, rinse and slice the bell peppers in half, removing seeds and pit. Try to select the biggest mini bell peppers you can find. It will make the removal process much easier.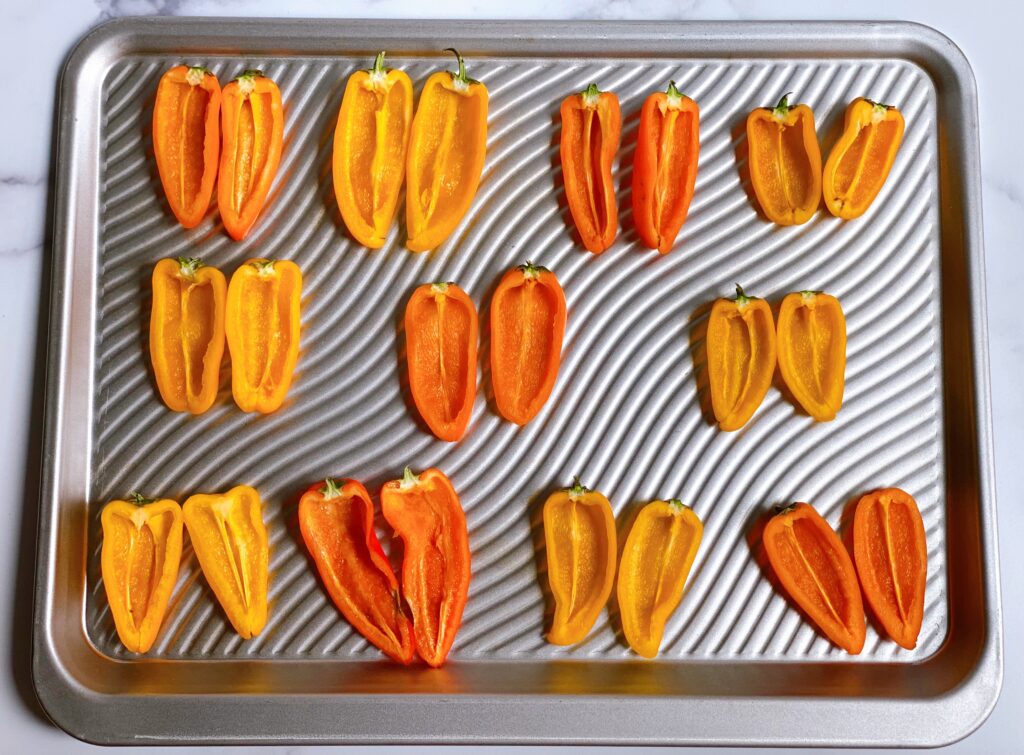 Next, chop the shrimp into small-medium pieces. Then in a medium bowl, combine the shrimp with chili powder, paprika, garlic powder, salt & pepper.
Now add 2 tablespoons of olive oil to a medium, heated skillet. Add the raw shrimp and cook for about 3-4 minutes or until it's fully cooked. I urge you to use raw shrimp because pre-cooked shrimp can be rubbery and lacks flavor.
Preheat the oven to 350 degrees. Then combine the cooked shrimp, lump crab meat, softened cream cheese, diced scallion, and 1/2 lemon juice in a medium bowl. Mix together the ingredients and then season with a pinch of salt and pepper.
As a side note, I always recommend salting as you go. It's so important, especially when following a recipe, to season to your taste.
Stuff each bell pepper half with a teaspoon of the seafood mixture. The amount you use may vary, depending on the size of the bell peppers you use.
Next, spray a large baking sheet with either baking spray or brush it with olive oil. Then arrange the stuffed peppers on the baking sheet and top each one with shredded cheddar and mozzarella cheese. Really any meltable cheese will work. Gouda cheese would be a tasty option if you don't mind spending a bit more.
Bake the peppers at 350 degrees for 15 minutes. Or bake until the cheese is melted and bubbly.
Finally, garnish with green onions and serve hot. Enjoy!
How can I tell when the shrimp is cooked?
Shrimp cooks relatively fast so you should stay at the stove when preparing it. The shrimp should be an opaque white when done. If the shrimp still has a grayish tint or is translucent, it's not ready. If you have a food thermometer, the internal temperature of fully cooked shrimp is 120 degrees Fahrenheit.
What Can I do with Leftover Shrimp and Crab Stuffed Mini Sweet Peppers?
The filling would work great as a dip! If you have excess shrimp and crab stuffing, put it in an air-tight container and store it in the fridge for up to two days.
Did you try this recipe? I'd love to see it! Tag me in your BonAppeDee inspired home-cooked meals on Instagram!