It's officially summer so I'm ready to start up the grill and make something delicious. It doesn't get better than kebabs! Kick-off the season with tasty Grilled Salmon Kebabs, enhanced with McCormick Salt Free Garlic & Herb Seasoning and McCormick Mexican Taco Food Truck Seasoning. Preparing your food for the grill just got a whole lot easier!
But wait! It's not a kebab without some variety. We'll add juicy tomatoes, peppers, mushrooms, and pineapples for color, texture, and a whole lot of flavor! Make these at your next cookout, and see how quickly they go!
You can get everything you need to make Grilled Salmon Kabobs at your local Giant Eagle. Their fresh produce and dedication to sustainability have me sold. Now let's fire up the grill so we can make some kebabs!
What Are Kebabs?
"Kebab" is a Turkish term for "grilled meat." Kebabs are a traditional staple in Middle Eastern cuisine. They are pieces of meat and vegetables mounted on a skewer and grilled.
You can make kebabs with as much variety as you'd like but I'd advise choosing proteins and veggies that complement one another. Beef, lamb, or chicken are popular choices. Vegetables such as onions, mushrooms, and peppers are commonly used as well.
We'll add McCormick Salt Free Garlic & Herb Seasoning directly to the salmon before putting it on the grill. It's a harmonious blend of garlic, Italian herbs, red pepper, paprika, and orange peel for a touch of zest. It adds flavor without overpowering the salmon, for a well-balanced, light but delicious taste.
The veggies will be tossed in vegetable oil, McCormick Salt Free Garlic & Herb Seasoning, and McCormick Mexican Taco Food Truck Seasoning. McCormick Mexican Taco Food Truck Seasoning will have even the pickiest eaters eating their vegetables! The seasoning incorporates garlic, onion, tomato, lime, chili pepper, cumin, and cilantro.
Tips and Tricks for Preparing Grilled Salmon Kebabs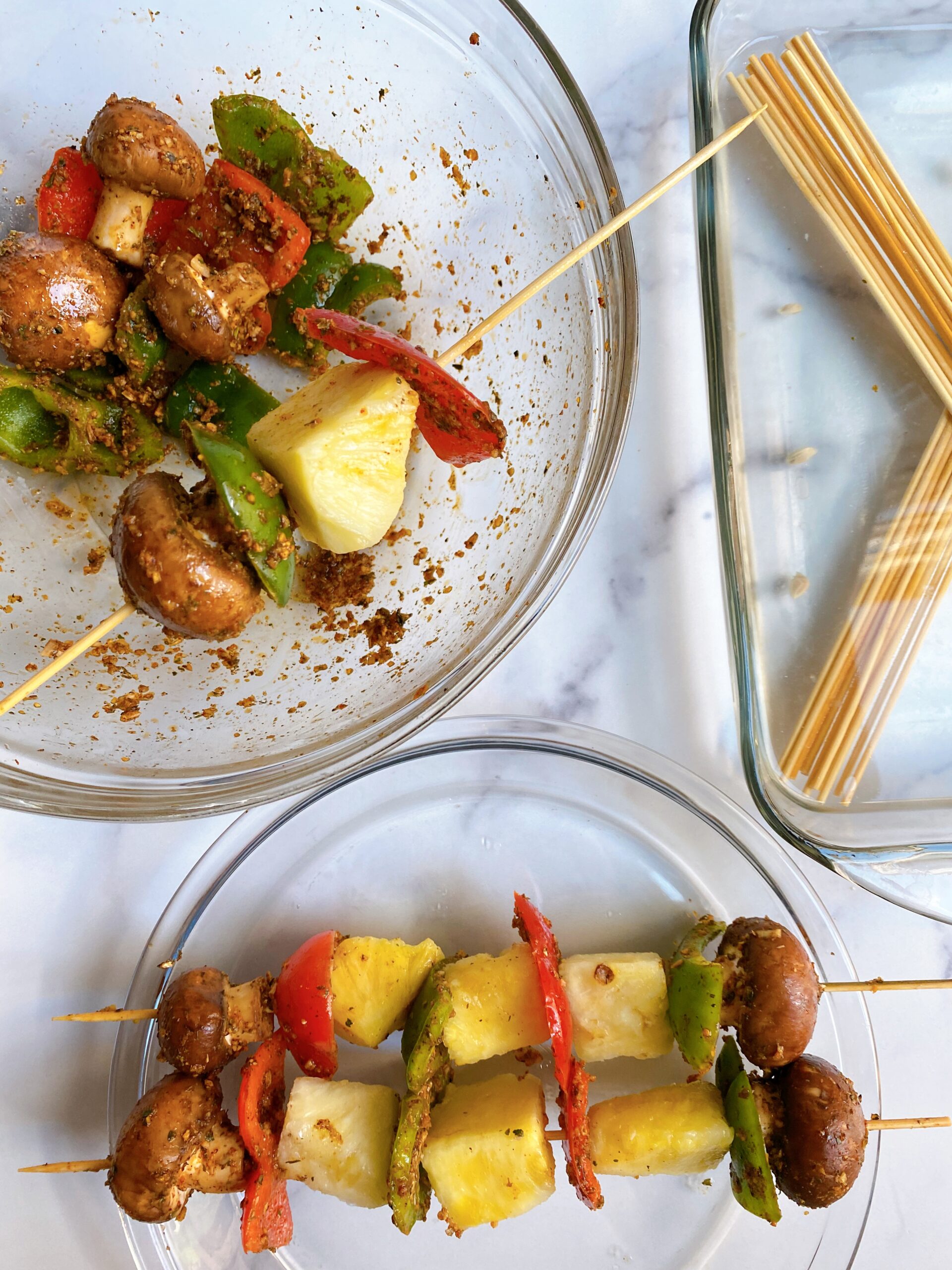 Prevent skewer sticks from catching fire by placing them in lemon water for at least 30 minutes prior to putting them on the grill.
Try to keep the salmon pieces a uniform size and thickness so they cook evenly. (Before cutting the salmon into cubes, remove the skin and pin bones.) Don't cut them too small or you risk overcooking the salmon.
How you place the salmon, veggies, and pineapple on the skewer matters. Each piece should touch but not be jammed together. Prevent overcooking and get juicier, tender kebabs by making them just close enough without overloading the skewer.
A non-stick pan or well-oiled barbecue flat plate is essential for this recipe so the fish doesn't crumble.
Note that cooking time will vary based on the type of grill you use. Be sure to keep an eye on the kebabs. Salmon cooks quickly and we don't want them to burn or dry out.
Need help starting a charcoal grill? Check out this super helpful guide from Giant Eagle on how to light a charcoal grill.
Happy grilling this season!
Did you try this recipe? I'd love to see it! Tag me in your BonAppeDee inspired home-cooked meals on Instagram!