Chicken Sausage Hash Balls are a classic breakfast dish rolled into one tender juicy ball that is prepared in the air fryer. It is perfect for breakfast protein on the go or to serve at your next brunch.
Did somebody say brunch? If you need more delicious ideas then you have to check out my Potato Cakes with Scrambled Eggs and Smoked Salmon and my Christmas Breakfast Wreath (it's yummy any time of the year).
I love breakfast hash! Crisp potatoes, eggs, and sausage is a perfectly balanced meal to start the day. The idea to roll all the ingredients into one crossed my mind when I had limited time but wanted a hearty, filling breakfast. That is where my air fryer came in!
Why use an Air Fryer to prepare Chicken Sausage Hash Balls?
At first, I was compete against purchasing an Air Fryer, but now, it's my air fryer is my new best friend! No but seriously, an air fryer simplifies the cooking process. You can cook food quickly in small batches so it's ideal for meals for one.
When it comes to chicken sausage hash balls, I find that the air fryer yields better results than the baking process. The air fryer crisps the exterior of the hash balls while keeping the inside tender and juicy.
If you haven't been convinced to buy an air fryer just yet don't worry. I have instructions for the air fryer and the oven!
Ingredients
Chicken Sausage: This is my preferred breakfast sausage but you can use what ever variety you prefer.
Cream Cheese: Make sure it is at room temperature for easier mixing.
Bisquick: Adding this makes for a nice crisp coating. You'll love that first bite!
Cheddar Cheese: Who can enjoy eggs and potatoes without some cheese? Be sure to use shredded cheese.
Hash Browns: Use prepeeled and shredded potatoes in order to make the cooking process quicker.
Egg: The perfect binder to hold all the ingredients together.
Butter: For added flavor.
Seasoning: I used an assortment that included paprika, oregano, salt, and pepper. Use your favorite seasonings to make this recipe your own!
How to Make Air Fryer Chicken Sausage Hash Balls
Before cooking, spray your air fryer with a nonstick spray and preheat to 400 degrees. If baking, preheat the oven to 375 degrees. Either way, line a baking sheet with parchment paper and set it aside for easy access.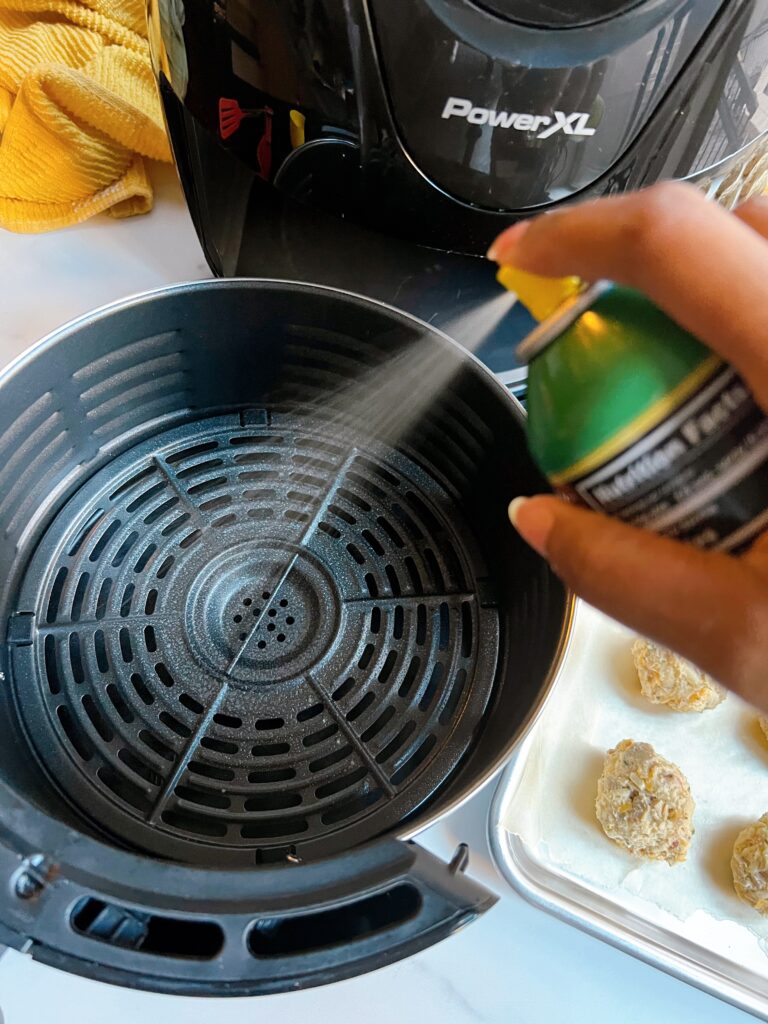 In a mixing bowl, combine all ingredients. Once combined, divide into 1 1/2 inch balls and place in an oiled air fryer or on a lined baking sheet.
Place 6-7 balls in the air fryer but be sure to not crowd the pan. Cook for 7-8 minutes. If baking, place balls on baking sheeting and cook for 15-20 mins or until cooked thoroughly and browned.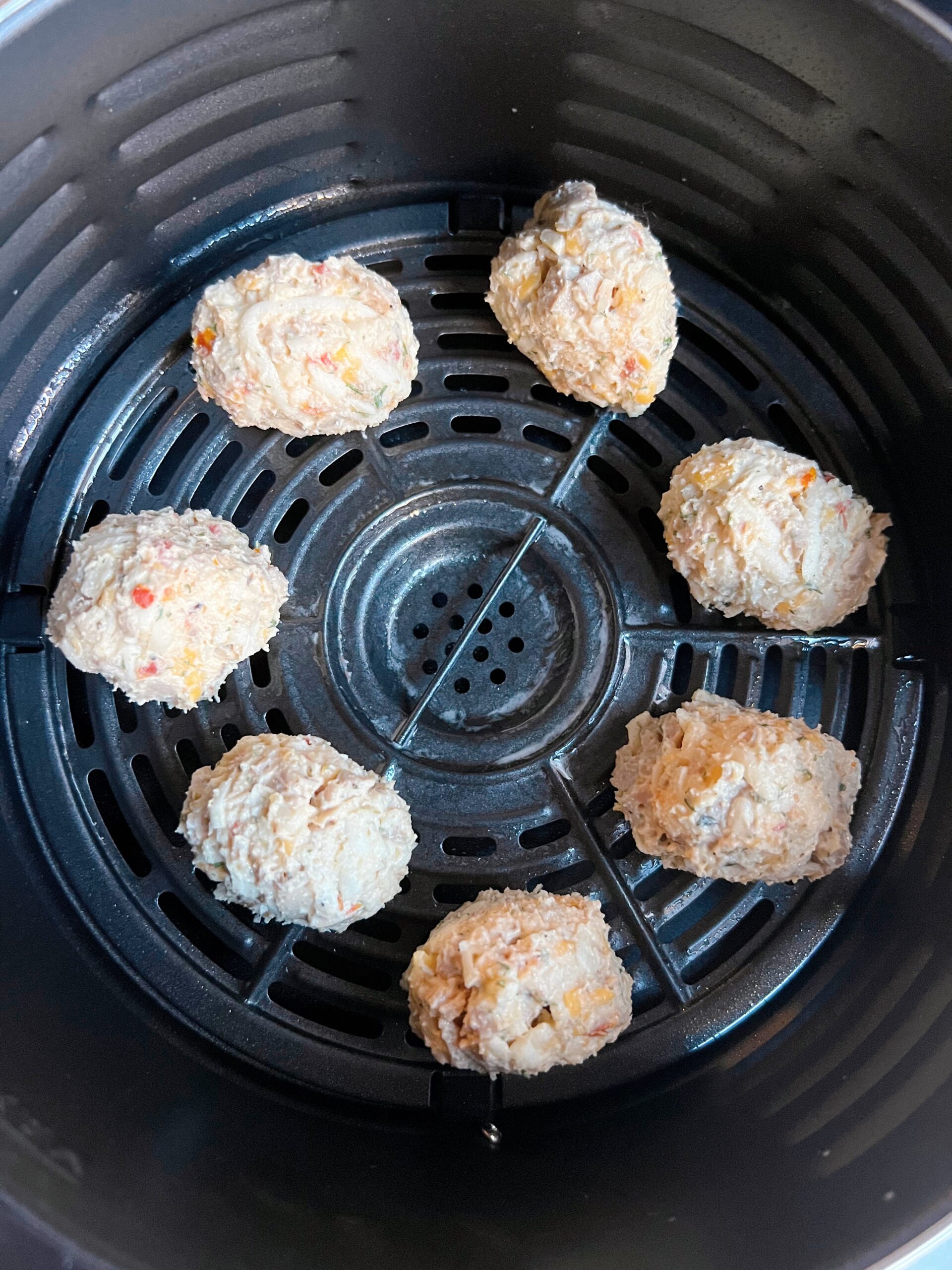 Finally, garnish with fresh herbs and enjoy!
Freezing for Later
For added convenience, Chicken Sausage Hash Balls can be prepared ahead of time for the perfect make-ahead breakfast. After combining the raw ingredients, simply freeze them in an air-tight container to be cooked later.
If cooking from frozen, just add a few minutes onto the cooking time. The hash balls will stay fresh in the freezer for up to two months.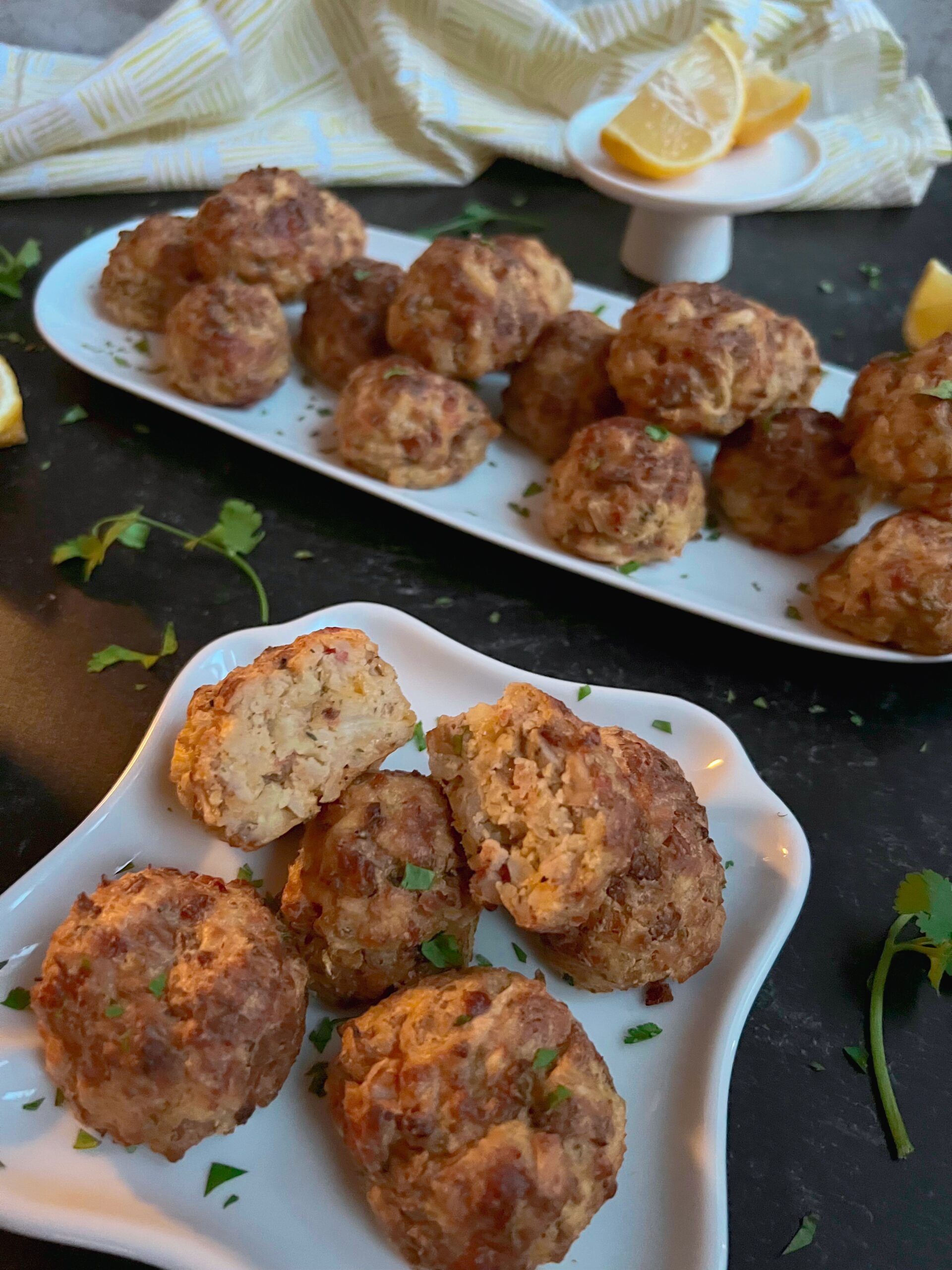 Did you try this recipe? I'd love to see it! Tag me in your BonAppeDee inspired home-cooked meals on Instagram!