Black Garlic Chicken are juicy thighs, breasts, and legs simmered in a mustard cream sauce accented with mushrooms and parsley. Prepared in a cast-iron skillet, Black Garlic Chicken is the perfect way to jazz up dinner time.
This simple recipe is ready in under an hour. Precook the chicken for an extra crisp. Then create your sauce before adding the chicken back to the mix for a deliciously creamy meal.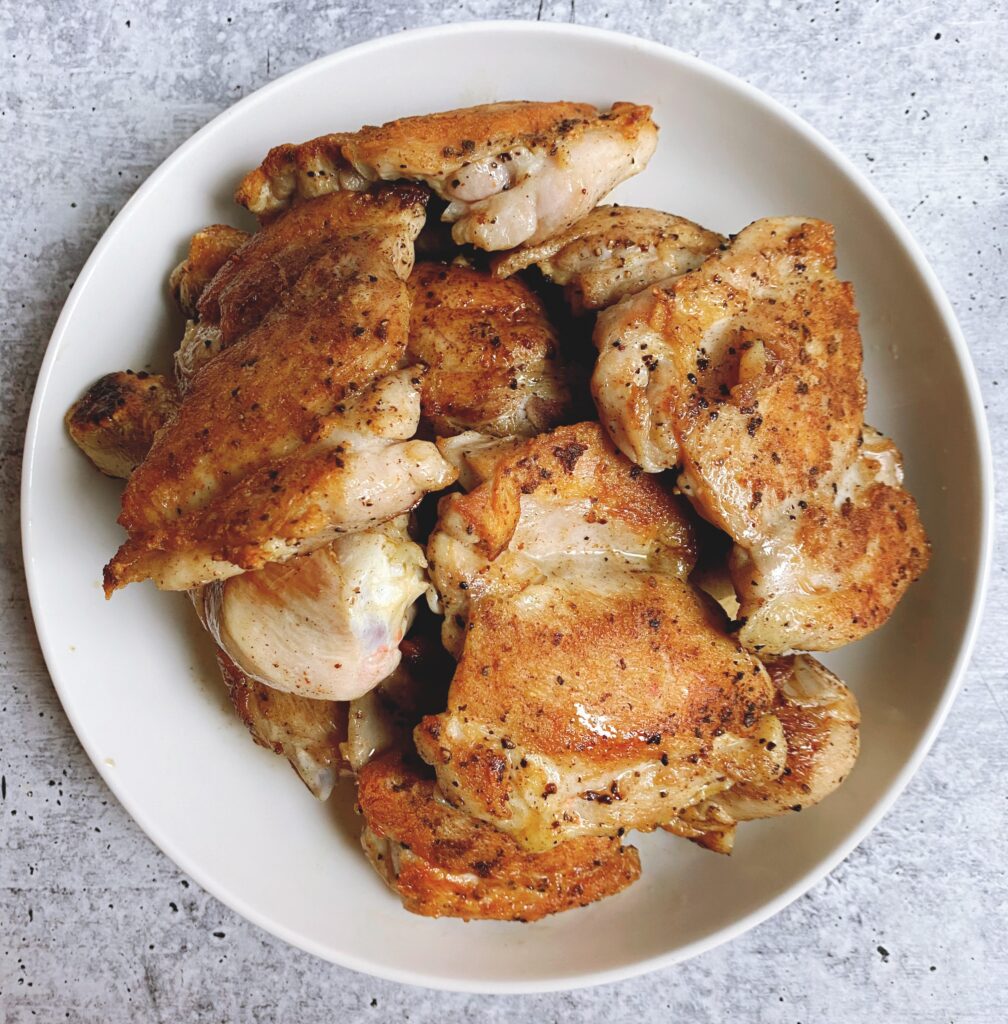 Interested in more quick and easy dinner ideas? Check out my Spicy Coconut Lime Salmon and Chicken Meatball Soup.
What is Black Garlic?
I always challenge myself to purchase a new spice while grocery shopping. On my latest trip to my beloved Trader Joe's, I stopped in my tracks when I saw black garlic.
I'm an avid garlic lover so the Black Garlic craze intrigues me. Black garlic is garlic that has gone through an aging process.
In order to create the sticky consistency of black garlic, temperature and humidity are regulated. The cloves gradually carmelize and that's where the dark brown color comes from. The aging process takes about 3-4 weeks.
What are the benefits of Black Garlic?
Black garlic was originally developed in Korea for medicinal purposes. It's been used to increase heart health and metabolic rates.
Black garlic contains twice as many antioxidants as regular garlic. It also has a much higher content of allicin (the good stuff that reduces inflammation). Black garlic is also rich in valuable amino acids.
How to use Black Garlic?
Despite my sudden interest in black garlic, it's far from a fad. Black garlic has been a staple in Asian cuisine for centuries.
Black garlic can be a garlic substitute in your favorite dishes. However, the taste profiles for black garlic and regular garlic do vary.
Black garlic has a more sharp, pungent scent. There's a richer depth to black garlic. You might not want to eat a regular garlic clove whole due to the acid but black garlic has a sweeter, more caramel-like taste that makes it easier to digest in larger quantities.
Trader Joe's black garlic was packaged as a dry seasoning. This can help change everyday meals with just a sprinkle. I'd add it to toast, oil, or sauces. It would also go great on your preferred protein.
Why use a cast-iron skillet?
If you've spent any time in the kitchen, it's easy to see the value in owning a quality cast-iron skillet. Whether baking, sautéing, frying or, searing, skillets are my go-to cookware.
The more you use your cast-iron skillet, the more flavor it retains. That's what makes it the perfect vessel for Black Garlic Chicken.