Frittatas are the perfect egg dish; they are inexpensive to make, super versatile, and easy for even the most novice of cooks. Make the perfect frittata every time with my Spinach, Mushroom, and Smoked Salmon Cheese Frittata recipe.
Nothing says brunch like a frittata. The Spinach, Mushroom, and Smoked Salmon Cheese Frittata satiates my appetite for a cheesy, egg dish on a Sunday afternoon. Want more brunch staples? Check out my Breakfast Wreath and Pomegranate Prosecco Mimosa.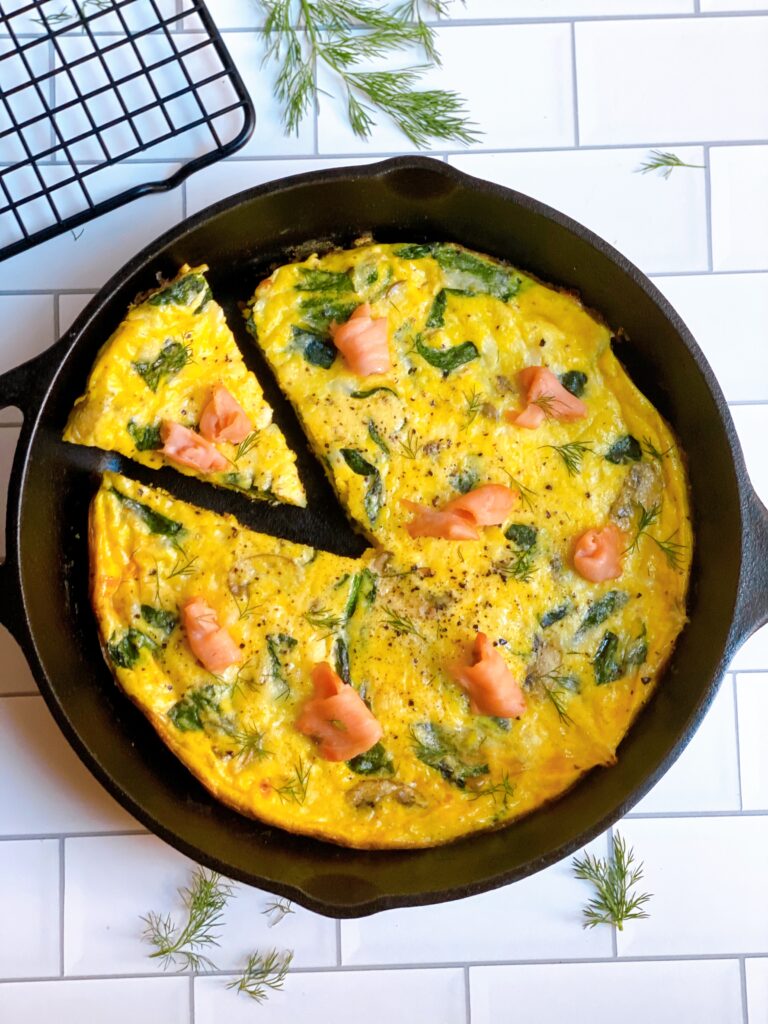 What's the difference between a frittata and a quiche or omelet?
Frittatas, quiche, and omelets are brunch faves but all have different flavors, textures, and preparation methods.
In the Spinach, Mushroom and Smoked Salmon Cheese Frittata, eggs are the star of the show. Baked in a crust, quiches have more structure than frittatas. Frittatas are also more fluffy in texture than quiches because they typically have less milk and more egg.
Frittatas are cooked slower than omelets. Omelets are usually cooked quickly over high heat on the stove. Frittatas start on the stove then are transferred to the oven. Omelets are usually served hot while frittatas can be eaten at room temperature.
What do you put in a frittata?
The great thing about frittatas is that you can make them with whatever you have on hand. All you need to make a frittata are several eggs, milk, and a few odds and ends from your fridge. Seriously! There's no need to let good food go to waste when you can throw it in a frittata!
When deciding what to add to your frittata consider veggies, cheese, and protein. Need suggestions?
Vegetables: brocolli, tomatoes, onions, peppers, mushroom, spinach and artichoke and arugula
Cheeses: goat cheese, feta, cheddar or mozzarella
Proteins: ham, sausage, bacon, salmon
Tips for Making the Best Frittata
The Spinach, Mushroom and Smoked Salmon Cheese Frittata recipe is simple but eggs can be tricky to cook. You don't want to overcook or have the wrong ratio and end up with a quiche or omelet when you meant to make a frittata. I've perfected my own recipe through trial and error. I'm sure once you give it a go, you'll have some awesome tips of your own.
Here are some tips to help from start to finish:
• Use full-fat milk. While we love being health-conscious, no nonfat or two percent milk for this recipe. Otherwise, it won't be as creamy or fluffy and that's the best part of a frittata.
• Pre-cook veggies. Before adding vegetables to your egg mixture season and cook them. This prevents a watery frittata. If you add raw vegetables, they may steam in the oven, releasing water into your mixture.
• Avoid over-cooking. Keep an eye on your frittata when it's in the oven and consider putting it in the middle rack of the oven. If you notice the top of your frittata has browned, it's probably too late. You want to take your frittata out of the oven when it's still a little jiggly in the middle. It will continue cooking when you take it out of the oven.
How should I store leftover Spinach, Mushroom, and Smoked Salmon Cheese Frittata?
Frittatas can keep in the fridge for up to three days. Ready to enjoy them? Opt to warm them up in a skillet rather than the microwave. Add them to a sandwich or even a breakfast taco.